Bestel vandaag voor 18.00u, morgen in huis.
Buffy the Vampire Slayer Chaos Bleeds

- GC All in 1!

Kopen:
-Tijdelijk uitverkocht-
We mailen je graag eenmalig wanneer deze weer voorradig is. (Je email adres houden we geheim.)
Gemiddeld krijgen we Buffy the Vampire Slayer Chaos Bleeds
0,2
x per maand op voorraad. De prijs 21.99 euro, is een indicatie.
Wanneer weer op voorraad?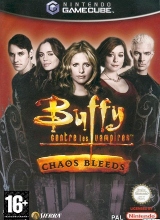 Game trailer
Specificaties
Platform:
Nintendo GameCube
Voor:
GameCube
Wii 1e versie
Regio:
Europees (PAL)
Genre:
Actie
Uitgebracht:
2003
Spelers:
1-4
Leeftijd:
16+ jaar
Memory Card:
3 blokken
Aantal discs:
1
EAN:
3348542181373
Anderen bekeken ook:

Afbeeldingen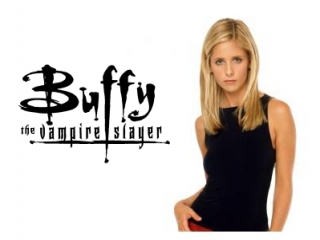 Speel als 's werelds meest sexy vampierenjager.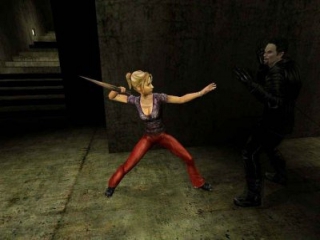 Schop jij het ook ver in dit spel?
Links
Beoordelingen
Buffy the Vampire Slayer Chaos Bleeds

1

beoordeling - cijfer

10,0
Stanley

10 jaar
Vampieren, wat wil je nog meer? Als je deze Buffy the Vampire Slayer game niet koop ben je een idioot!
Voeg jouw mening toe
en verdien 40 tot 75 muntjes.

Tips en geheimen, cheats en codes
Geheimen:
Unlock Extras
| | |
| --- | --- |
| Anthony Stewart Head Interview | Voltooi Missie 1 |
| Amber Benson Interview | Voltooi Missie 2 |
| Nicholas Brendan Interview | Voltooi Missie 3 |
| Robin Sachs Interview | Voltooi Missie 4 |
| Chaos Bleeds Comic Book | Voltooi Missie 5 |
| James Marsters Voice Over Session | Voltooi Missie 6 |
| Anthony Stewart Head Voice Over Session | Voltooi Missie 7 |
| Amber Benson Voice Over Session | Voltooi Missie 8 |
| Nicholas Brendon Voice Over Session | Voltooi Missie 9 |
| Robin Sachs Voice Over Session | Voltooi missie 10 |
| Joss Whedon Voice Over Session | Voltooi Missie 11 |
| Out-Takes | Voltooi Missie 12 |
MarioCube
9 jaar
Links
Anderen bekeken ook: