Bestel vandaag voor 18.00u, morgen in huis.
Black and Bruised

- GC All in 1!

Black and Bruised kopen:
-Tijdelijk uitverkocht-
We mailen je graag eenmalig wanneer deze weer voorradig is. (Je email adres houden we geheim.)
Black and Bruised is vrij zeldzaam, maar ooit krijgen we deze weer binnen. De prijs 11.99 euro, is een indicatie.
Wanneer weer op voorraad?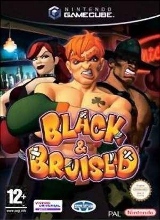 Game trailer Black and Bruised
Specificaties Black and Bruised
Platform:
Nintendo GameCube
Voor:
GameCube
Wii 1e versie
Regio:
Europees (PAL)
Genre:
Vecht
Uitgebracht:
2003
Spelers:
1-2
Leeftijd:
12+ jaar
Memory Card:
1 blok
Aantal discs:
1
EAN:
3348542175693
Anderen bekeken ook:
Afbeeldingen van Black and Bruised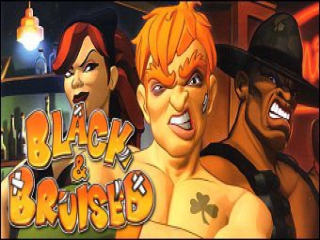 Speel als 19 verschillende gekke personages in wel 21 opwindende arena's!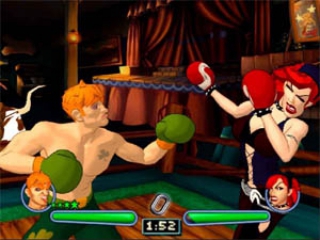 Je slaat toch geen vrouw!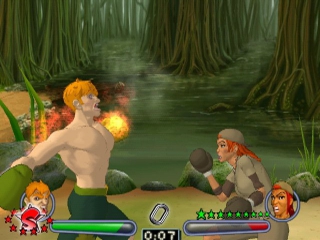 Verdien tijdens de gevechten power ups zoals meer schade, zo versla je zeker de vijand!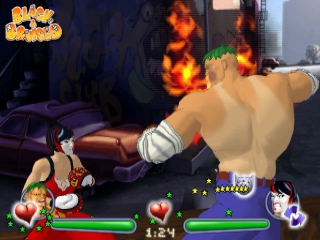 Dat lijkt me geen eerlijk gevecht...
Links voor Black and Bruised
Beoordelingen
Black and Bruised
Wij hebben nog helemaal geen beoordelingen...
Voeg jouw mening toe
en verdien 40 tot 75 muntjes.
Tips en geheimen, cheats en codes voor Black and Bruised
2 tips: 1 geheim - 1 Cheats en Codes
Geheimen:
Verborgen karakters
Stteevvee
7591
Door bepaalde toernooien te winnen kan je nieuwe karakters vrij spelen.
| | |
| --- | --- |
| King Khan | Win het Top Contender Tournament |
| Matador | Win het Intercontinental Tournament |
| Odiva | Win het Professional Tournament |
| Old Master | Win het World Championship Tournament |
| Training Robot | Voltooi de training mode (inclusief combo training) |
Stteevvee
7591
Ga naar het cheats menu en gebruik 1 van de volgende codes:
| | |
| --- | --- |
| START, Z, Z, Z, Z, Z, Z, Z, Z, Z, Z, START | Activeer turbo mode |
| START, A, Y, X, X, Z, Z, X, Y, A, START. | Alle boxers |
| START, A, A, Y, Y, Z, Z, X, X, START. | Onzichtbaar |
| START, A, Z, Y, X, START | Nieuwe kostuums |
| START, Y, Z, Y, Z, A, A, START | Scrap Yard |
| START, A, Y, A, Y, A, Y, X, X, X, START | Heel veel power ups |
Links voor Black and Bruised
Anderen bekeken ook: